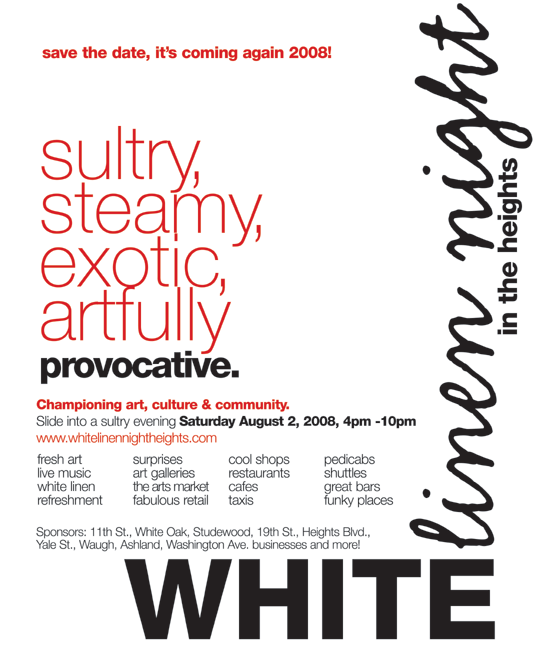 Hello Lucky
1025 Studewood Street
Houston, Texas 77008
713-86hello - 713-864-3556
http://www.hello-lucky.com
Hello Lucky will be part of White Linen in The Heights
Saturday August 2, 4 - 10pm
We will be open from 11 am - 10 pm
serving up some cool libations after 4
# 47 on the White Linen map
shuttle stop- # 10 on the shuttle stop index
So if you live close by, you may just want to walk to Hello Lucky
or park nearby us and catch a free shuttle from the shop to take you around The Heights
more about White Linen at:
http://www.whitelinennightheights.com/
Road Trip on view now
Artists:
Jim Denk, Rachel Hewlett, Jillsbadcar, Melissa Lonchambon,
Mike Lonchambon, Whitney Riley,
Brooke Summers-Perry, Vagrca, David Waddell, Joanne Witt
Ongoing
work by Ryan Geiger, Woody Golden, JoAnn Park, Christine West
and a collaborative video by Elaine Bradford, Teresa O'Connor and David Waddell
July/August Monthly Challenge
Throughout the months of July and August
we will be a drop spot for plastic shopping/grocery bags as well as fabric remnants.
Itscool2care will use these items to create reusable shopping bags.
http://www.itscool2care.org
This quarter Hello Lucky is happy to be working with Glasstire. A portion of in-store sells will be donated to the non-profit
http://www.glasstire.com
Road Trip on view in store now!
Hello Lucky
http://www.hello-lucky.com
New Shop Hours
Thursday 11 - 5
Friday and Saturday 11 - 6
*Sunday Noon - 5*
We will happily stay later,
just call us before 5pm
xox
or by appt, just call
you are amazing, you are